Folk Dance on a Frozen, Music and Film by Taylor B.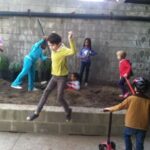 This month our Guild embarked on an outdoor adventure. And our student apprentices led the way, enthusiastically offering creative input and a whole lot of muscle! The goal is to create a contemplative
Continue Reading ...
At the Guild we often impart history to our apprentices, beginning with single words. This time our little lesson began with the word Epiphany. …we celebrate words—Lexicon. Epiphany is a word
Continue Reading ...